Gretchen G., Backing the Blue Line member
Forgive & Forget: Because No One is Perfect
Editor's note: this is one of several posts about relationships/marriage by women of Backing the Blue Line. We are proud to announce our first ever Relationship Retreat where MN Law Enforcement couples will spend a few days in the north woods investing in their relationship with one another. Are you a MN Law Enforcement Officer or the spouse/partner/fiance/fiancess/girlfriend/boyfriend of one? Check out the event info about Bullet Proof Your Relationship on Facebook. Want to read more about law enforcement marriages? Click on the Marriage tag on this post to read other posts on this topic.
I guess you could say we are "one of those stories"...teacher meets cop, they fall in love and the rest is history. Our story didn't start out that "simply."
You see, I'm a middle school math teacher and was also the assistant varsity fastpitch coach for our local high school. I was 33 when we met at school and already well-established in my career as a teacher. I owned my own home and still participated in competitive sports in addition to coaching. I was blind to what was right in front of me for one full school year! We all make mistakes, right? It all began in the spring of 2004, or at least, that's what my LEO tells me! LOL
The previous School Resource Officer in our building was deployed to Kosovo with the National Guard, so my LEO volunteered to step in and cover the position while he was gone.
He tells me that he tried to get my attention as I was leaving the building each day while he chatted with some other teachers who were supervising after school bus duty. Who knew? I had to hurry up and get to the field to coach my girls! I didn't have time for that. Or even notice, for that matter!
Fast forward to the fall of 2004, when my phone rings during first hour. It was our secretary…"If Drew were to ask you out, what would you say?"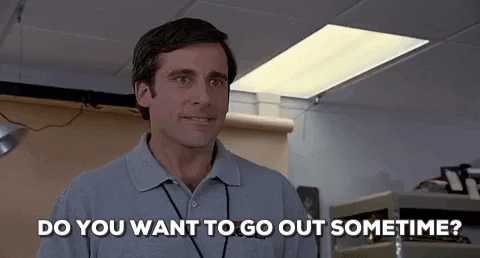 "Uh, I'd say yes. Can I please go now? I'm in the middle of teaching a lesson."
Is anyone else thinking, "This is so middle school!"? "Do you like me? Check one: YES or NO"
On Drew's last day working at our school, there was a going away gathering at a local establishment. I was the last one to arrive, and go figure, the only chair open was the one next to him. As I was getting ready to leave (about an hour late for a babysitting gig), he slides a napkin my way and it read "Would you like to go out to dinner sometime?" Of course, I said yes and wrote my number on a napkin in return.
We had a great first date to start what would be one of the best nights of our lives. We went to dinner at a Jazz restaurant in Minneapolis. It's now closed, but it was a great meal, from what I recall. Then, we met up with some friends at the Twins game at the Metrodome. He even thought to bring a Twins sweatshirt to change into for the game. After the game, we went to a bar downtown and people watched. It was fun making up stories of who the people were and what their stories could possibly be. When it was time to go, we headed back to where he parked. We got to the corner and looked across the street where his car was. Or so, we thought.
I looked up at him (he's 6' 2" and I'm 5' 3") and said "Wasn't your car parked right there?"
"Uh, yep."
We walk across the street, he pulls out his work ID and showed it to a local police officer and asked, "So, if my car was here about an hour ago, where might it be?"
I overheard the local officer say, "Oh man, this street turned into a no parking zone at midnight. If the flat bed was still here, I could maybe help you out. Since it's not, you're going to have to go to the impound lot."
So, my date puts his pride in check, gets us a cab and we headed to the impound lot at 0130 hours. (That's 1:30 a.m. for those readers not used to military time.) As he's talking to the woman behind the window at the impound lot, he explained to her that we were on our first date. She just laughed at him and smiled at me.
They are not perfect, the men and women of Law Enforcement.
They make mistakes too. This story shows us that they are human, too. That they sometimes park illegally when they might be just a tad nervous about the person they've just spent a few hours with. I'm so thankful that I checked "yes" and that we didn't let the fact that we ended our first date at the impound lot mean it was our last.
About the writer: Gretchen has been a member of Backing the Blue Line for two years and in the future, hopes to participate in additional activities that support BTBL and possibly take on a role within the BTBL organization. She is in her 21st year as a middle school math teacher. Gretchen and her husband have been married for 12 years and have a 4 year-old son. Ironically, she and her husband were hired the same year as he is in his 21st year at the same agency he was first hired at. In her spare time, she is a consultant with Thirty-One Gifts. About the retreat: Bullet Proof Your Relationship will be held March 3-5, 2019 at the Arrowwood Resort in Alexandria. Kevin Norton, a 25 year Police Chaplain, will lead guests through John and Julie Gottman's Seven Principals for making marriage work over the course of six sessions during the retreat.
#Relationships #Marriage #LEOmarriages #backtheblue #backingtheblueline #PoliceWifeLife #reality #LEOWLife